CHRISSI´S SEASONSTART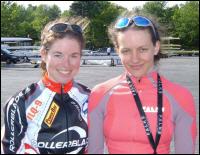 AT THE BAVARIAN-INLINE-CUP IN MUNICH

On 21 Mai our speedskater Chrissi competed for the first time this year. The distance to go was a 20km half marathon at the olympic-rowing track in Oberschleißheim near Munich. The weather changed just in time for the beginning of the race from very cloudy and stormy to sunny but still with strong wind. The "good luck wishes" paid off and Chrissi got herself the 6 rank. Congratulations!!!!

You can find more pic´s in the Press & Picture section or click here!

THE PERFECT TEAM LOGO
After a long search and long nights in front of the computer our FEMME FATALE logo was created.
We had the ambition to match the logo perfect to us girls, speaking of something which is able to embody a female team in a stylish and fresh way.

With Lilli, our logo-front woman, we are sure to have the right logo standing for the team.

Ladies and Gentlemen....may I introduce to you Lilli and our Logo: